Fujairah Port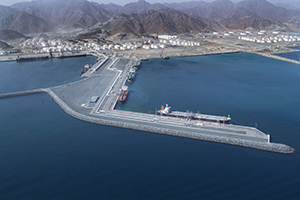 Port of Fujairah is the only multi-purpose port on the Eastern seaboard of the United Arab Emirates, approximately 70 nautical miles from the Straits of Hormuz. Initial Construction of the Port started in 1978 as part of the economic development of the UAE. Full operations commenced in 1983. Since then the Port has embarked on a continuing process of enhancement to both its facilities and its comprehensive range of functions.

The Port of Fujairah with its strategic location on the UAE East coast, at the crossroads of shipping lines between East and West is one of the Emirate's vital facilities. It offers an important hub for their activities towards the markets of the Indian sub-continent and East of Africa.

The Emirate of Fujairah enjoys excellent road connections with U.A.E and adjoining countries.
The excellent road network is being further improved with new roads that will reduce travel time to the neighbouring emirates and beyond:
EmirateDistance

Abu Dhabi

300 KM

Dubai

130 KM

Sharjah

110 KM

Ras Al Khaima

110 KM

Ajman

120 KM

Um Al Qaiwain

120 KM

Al Ain

200 KM
Web
www.jvsfujairahhullcleaning.com